What it is
Our in-house fulfillment operation is what makes quick shipping turn around times for our customized tags possible. Every DocuPet tag is etched, packaged, and addressed on site by a fulfillment team member who ensures the accuracy and quality of each tag that comes through our shop. With over 170 tag styles (and counting) to choose from, license tags just got a whole lot more fun!
Why we made it
When we made the decision to develop a line of designer license tags, we had a pretty good feeling it was going to be well received by our pet owner community, especially once they found out 20% of their purchase would be donated to a local animal welfare organization. What we didn't expect was the number of people who would want a different tag style for every season, every event, and in some cases, every week!
By turning a boring traditional license tag into something people actually covet, we changed the game. We found the best type of outcome - a win, win - win, win. That's four wins to be clear - one for the pet owner who actually likes the tag they had to buy, one for the pet who gets to wear a tag that has the best chance of helping them get home, one for the licensing organization that benefits from the buzz these cute tags generate, and one for local animal welfare organizations that receive net new donation revenue on the regular. Oh, and one more win for us because we can make our service costs even more competitive.
Low cost, high quality tags
Standard tags are made from durable aluminum and available in small (size of a nickel) and large (size of a quarter)
In-house etching
Every tag is etched by our fulfillment team members and always features the pet's unique tag number, which doubles as the pet's HomeSafe™ code and public profile link
Environmentally friendly laser engraving process ensures precise and high quality markings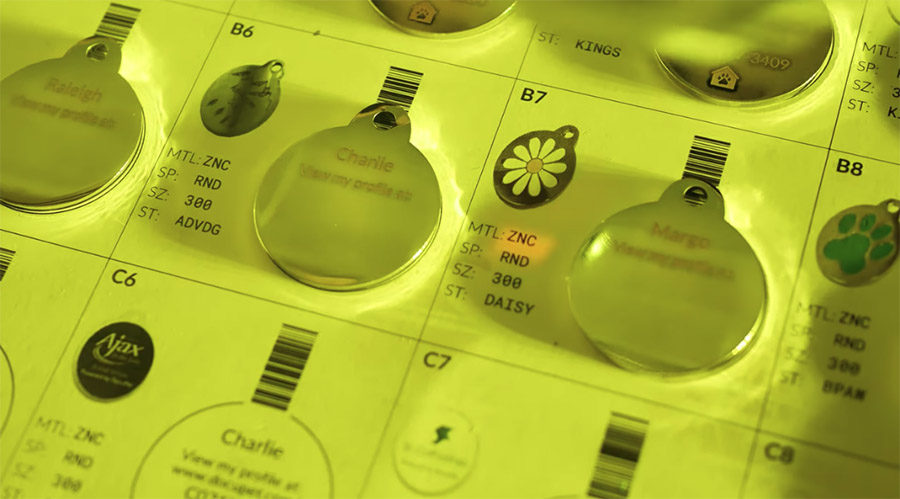 Daily fulfillment
Orders are fulfilled and shipped within two to five business days

Each step of the fulfillment process is tracked and viewable via our proprietary software
No shipping or delivery costs for the pet owner
Designer tag and personalization options
More than 170 tag styles to choose from
Non enamel tag styles are available in four different metal coatings including rose gold, yellow gold, gun metal, and silver
Options to personalize tags with pet name and pet owner phone number
Options to upgrade connector type to "easy connect", "active pet", or "secure clip"
Outsourced tag inventory and management
All tag forecasting, ordering, and coordination is handled independently by our team
Bulk tag shipments available at client request or opt to eliminate over the counter management entirely
Customized package inclusions
Every tag package includes a receipt and information insert customized to the pet owner and their furry friend, thanking them for their support of local animal care and control
DocuPet's in-house fulfillment operation guarantees tags are shipped out quickly and accurately with care. We do our best to never make a mistake, but if we do, you can count on us to make it right with the customer and get a replacement order out ASAP with a code for a free designer tag included.